Date:
Sept 21, 2014 3:00PM
Location:

Troy Community Center
Address: 3179 Livernois Rd, Troy, MI 48083
Phone: (248) 524-3484
Join us September 21st, at 3:00 PM for the premier viewing of "Palikari"
Detroit is fortunate to have only the 2nd viewing of the documentary "Palikari", the story of Louie Tikas, a Greek Hero in Colorado who died for workers rights.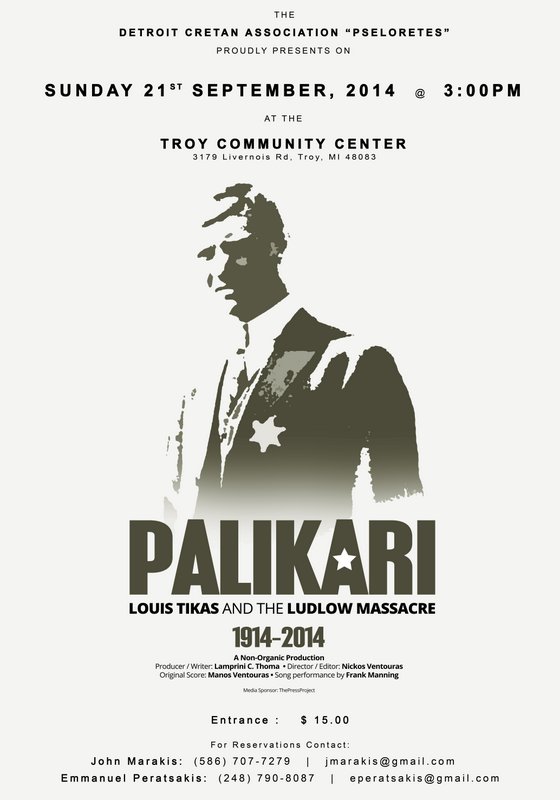 Palikari - Louis Tikas and the Ludlow Massacre
Greek production, 2014
Written and Produced by Lamprini Thoma
Directed and Edited by Nickos Ventouras
Original Score by Manos Ventouras
Associate Producer Menelaos Tzafalias
Louis Tikas song by Frank Manning (Best Folk Song, 2002).
Locations: Oakland, CA, Santa Fe, NM, Denver, CO, Fort Collins, CO, Colorado Springs, CO, Chicago, IL, Athens, GR
Summary
Palikari – Louis Tikas and the Ludlow Massacre deals with labor relations in early 20th century America, as told through the story of Greek migrant and trade union activist Louis Tikas.

This year marks the centenary of his brutal killing during what acclaimed historian Howard Zinn called the "culminating act of perhaps the most violent struggle between corporate power and laboring men in American history".

Director Nikos Ventouras and producer Lamprini Thoma chart the story of the great 1913-1914 coalminers' strike and Louis Tikas's murder, as it survives in oral and family traditions, as well as in official history. They interview historians and artists, some of them direct descendants of those striking miners. Labor movement emblem Mother Jones and industrialist John D. Rockefeller, Jr. also make cameo appearances in this palimpsest of memory, struggle and deliverance. Tikas's story can but reverberate in our time, in view of what is happening with the rights of workers and immigrants around the world.